A880 Dental Chair Unit
(electric dental chair, handpiece, rotating cuspidor, LED light)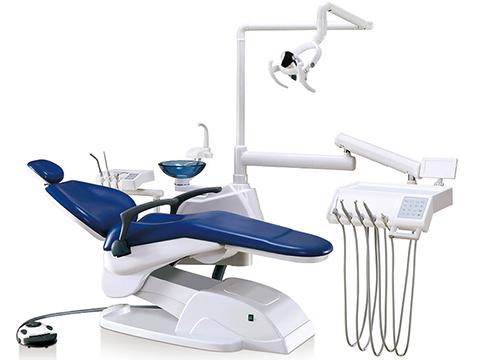 Power supply: AC220V/110VC 50/60HZ
Input power: 1200W
Fuse specification: RFl-20, Specification: Ф5×20, Rated current: 6.0A
Dental operatory light (cold light): AC12--24V/6W--10W
X-ray film viewer: AC24V/4W
Water supply thermostat: AC24V/80W temperature: 40℃±5℃
DC motor: DC24V/L3.8A
Dental operatory light color temperature: ≤4500K
Dental operatory light intensity: 7000lux--42000lux
Minimum height of the chair: ≦50cm
Maximum height of the chair: ≧75cm
Load of chair: ≤250kg
Cushion: < 1.9m
Load of dental instrument tray: 1.5KG
Size of dental chair unit: 155*105*125 cm
Packed weight: 250KG
The A880 Dental Chair Unit uses a hanging instrument tray and vitreous spittoon, allowing the dentist to easily choose the necessary instruments for treatment. The spittoon is also easy to clean.

The chair cushion is made of a PU material and has a curved design based on the structure of the human body, in order to ensure a comfortable treatment for the patient.
An all-directional automatic control program and three memory heights for the chair make operation fast and easy. The A880 dental chair comes with a single button operation.
In after-sales repair instances, an easy fitting shell facilitates maintenance of internal components, which saves time.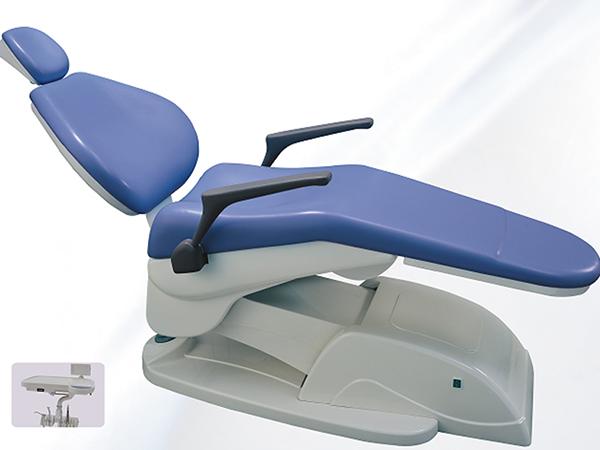 Electric patient chair
The chair uses electric control for the height
The chair cushion is made of a soft vacuum memory cotton PU material that is ergonomic, ensuring patients are comfortable during treatment.
The chair height is controlled using a low voltage DC24V motor with a gas spring to assist, which ensures lifting is stable and fast.
---
Spittoon
The spittoon can be turned 90 degrees, which makes spitting easier.
The water nozzle can be removed, so the disinfection process becomes easier.
---
Dental operatory light
Bright spotlight and uniform distribution of the light spot provides plenty of lighting for the dentist.
Users can switch the light on/off in a manual or induction mode.
---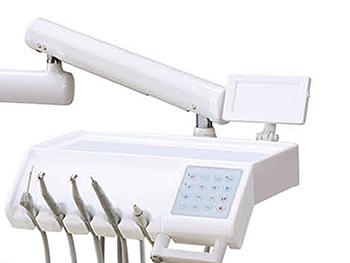 Instrument tray
The digital display has three memory keys for adjusting the chair's height, which speeds up the adjustment process.
Dentists and patients alike can clearly see internal oral conditions using the dental X-ray film viewer.
Four-hole handpiece tubing uses advanced PU material that is corrosion resistant, high-pressure resistant and aging-resistant.
---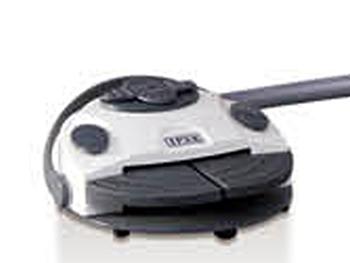 Multifunctional foot control
Dentists can adjust the height of chair and back by using a foot pedal.
Dentists can also control the spittoon water supply for the mouth rinse cup by using the foot pedal. It can also provide cleaning water.
A multifunctional foot pedal controls water and air supply for the dental handpiece.
A multifunctional foot pedal controls the dental handpiece's water/air separation performance.
Electric patient chair 1set
Rotatable vitreous spittoon 1set
Water supply and conversion system for dental unit 1set
Mouth wash supply thermostat 1set
Dentist's module with pneumatic lock 1set
Touchpad instrument table 1set
LED dental operatory light 1set
Four-hole handpiece tubing 3set
Three way syringe 2set
Strong/weak saliva suction system 1set
Multifunctional foot control 1set
Dentist chair 1set
Nurse chair 1set
Dental scaler
Curing light
Dental handpiece with high/low speed
Medical air compressor
Medical saliva suction negative-pressure machine
Intraoral camera (+display)
Other corollary equipment
Installation