A8000-IIA Pediatric Dental Chair
(children's dental unit with lovely dinosaur chair)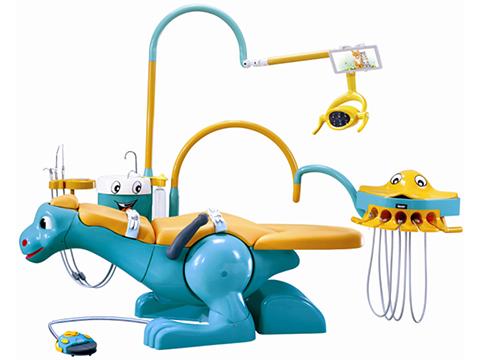 Power supply: AC220V/AC110V 50/60HZ
Input power: 1200W
Fuse specification: RFl-20, Specification: Ф5×20, Rated current: 6.0A
Dental operatory light (cold light): AC12--24V/6W--10W
X-ray film viewer: AC24V/4W
Water supply thermostat: AC24V/80W; Temperature: 40℃±5℃
DC motor: DC24V/L3.8A
Dental operatory light color temperature: ≤4500K
Dental operatory light intensity: 7000lux--42000lux
Working air pressure: 0.5--0.8Mpa working water pressure: 0.2--0.3Mpa
Load of instrument tray: 1.5KG
Size of pediatric dental chair: 160*110*120 cm
Packed weight: 270KG
Although it doesn't feature our animated bluecoat design, the A8000-IIA pediatric dental chair is a lovely dinosaur-shaped chair with a smiling-apple-shaped spittoon and removable mudskipper-shaped unit to relax children receiving treatment. Many other designs like the color match blue and yellow can also distract child patients and relax them, which helps shorten the treatment time.
The cushion of the dinosaur-shaped chair uses memory foam PU technology which meets the ergonomics and so makes children feel comfortable on it. In addition, prolonged cushion is designed for children who are taller than 150 cm.
The shell of the equipment is molded by injection mold, so it has better hardness and better accuracy. The shell color is produced by mound directly and doesn't need paint spraying, which is good for health.
The chair is connected with the delivery unit by mechanical arm, which can save space for outpatient service.
Dinosaur-shaped electric chair
Dinosaur-shaped chair can hold weight up to 150kg, which is same as the adult dental chair.
The tail of the chair has prolonged cushion which can be used by children aged 12 and under.
The surface of the chair are molded by injection mold which is not easy to burst or deform, and easy to dismount and assemble.
The cushion of the dinosaur-shaped chair uses memory foam PU technology which meets the ergonomic design to make children feel comfortable on it. Buckle installation
The height of chair back and body is controlled by low voltage DC motor with gas spring assisting the work, which makes the course of lift stable and fast.
The dinosaur's head can be dismounted. The height of the headrest can be adjusted flexibly.
---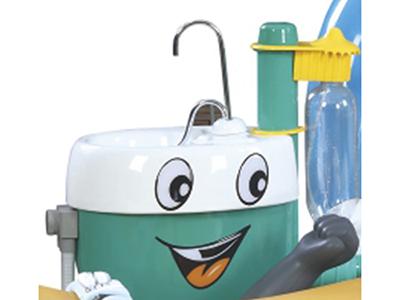 Spittoon
Spittoon uses smiling apple pattern in appearance design to relax young patients. It can also reduce the difficulty of the dentist's work.
Spittoon is made up of ceramic materials, which makes cleaning and disinfection easier.
---
Dental operatory light
Good spotlight and uniform distribution of light spot provide convenience for dentist to observe the status of patient's oral cavity from all angles
The light cannot be deviated to patient's eyes because of uniform light pattern.
You can switch on/off the operatory light by manual or induction mode.
You can adjust the light's intensity by manual or induction mode.
---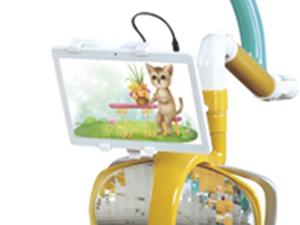 Children entertainment tablet
Entertainment tablet can be installed on the dental operatory light. Children can forget fear of treatment in some degree when they enjoy their favorite show.
Tablet holder can be 360-degree adjusted according to patient's view.
Tablet holder can be placed on tablets of different sizes, patients' own tablet is also usable.
---
Mudskipper-shaped pusher delivery unit
Dentist can see oral panorama easily because of ultra-wide panel film viewer inside the delivery unit.
Four-hole handpiece tubing uses advanced PU material which is corrosion resistant, high-pressure resistant and ageing-resistant.
Three-way syringe design provide convenience to wash affected areas in the oral cavity of the patient.
---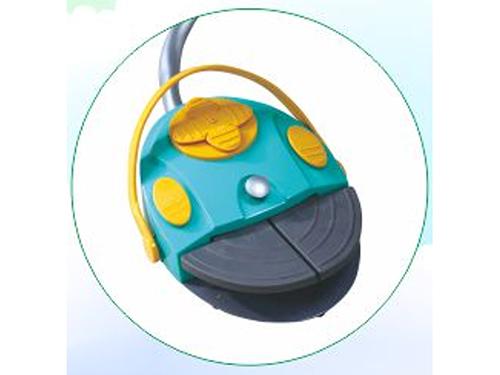 Multifunctional foot control
Dentist can adjust the height of chair and back by using foot pedal. Dentist can also control water supply of spittoon for mouth rinse cup by using foot pedal, it can also provide cleaning water.
Multifunctional foot pedal controls water and air supply of the dental handpiece.
Multifunctional foot pedal controls the dental hand piece's function of separating water from air.
Dinosaur-shaped electric patient chair 1set
Smiling apple spittoon 1set
Elephant nose LED dental operatory light 1set
Children entertainment tablet 1set
Mudskipper-shaped dental instrument tray 1set
Multifunctional foot control 1set
Four-hole handpiece tubing 3set
Three-way syringe 2set
Automatic heating water supply 1set
Strong/weak saliva suction system 1set
Panoramic X-ray film viewer 1set
Dental scaler
Curing light
Dental handpiece with high/low speed
Medical air compressor
Medical saliva suction negative-pressure machine
Intraoral camera (+display)
Other corollary equipment
Installation